Men of the WEST Beware!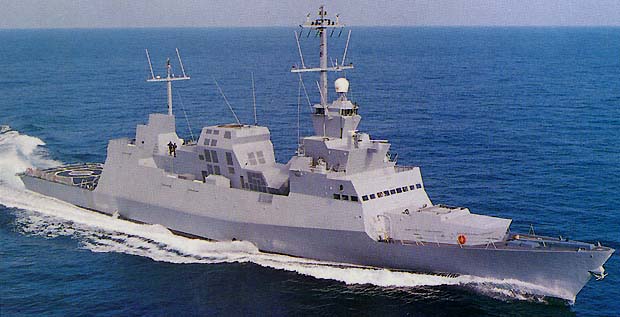 The Israeli Eilat Class (Sa'ar 5)
is 1227 ton, 260-foot ship built in the USA and is called a "corvette", its weaponry and 33 knot speed are comparable to a frigate. It has a stealthy design, sonar, torpedoes, missile launchers, a gun mount, and a helicopter hanger large enough for a Navy H-60 helicopter. The Navy could greatly increase this frigate's lethality by adding the US Army's new
EFOG missile system
to strike small craft and targets ashore. The Sa'ar 5 only requires a crew of 71, costs far less to buy, support, and operate. Its smaller size makes it more difficult to target and its smaller draft allows it to operate in shallow waters. These three "Israeli" ships are built by Ingalls shipyard in Mississippi in 1995, the same location where the current Aegis destroyers are made.
Haaretz
reports:
The body of one of the four missing Israel Defense Forces soldiers on a warship that was attacked by Hezbollah off the coast of Lebanon was found Saturday aboard the damaged vessel, military officials said. He was identified as Staff Sergeant Tal Amgar, 21, from Ashdod.

The incident occured close to 8 P.M., west of Beirut, when the INS Spear, a Saar-5 Class destroyer, was on patrol as part of the naval blockade imposed on Lebanon since Wednesday.

The Saar-5 class is equipped with very advanced defensive systems. However, these were not in operation at the time of attack, partly because of the number of IAF aircraft operating in the area. It was feared that if the system was in operation, it would mistakenly identify friendly aircraft as enemy targets and engage them.

Initial assessment held that the ship had been struck by an

unmanned aerial vehicle loaded with explosives. However, later in the night it became clear that a missile had hit INS Spear.

The missile, is a C-802 radar-guided anti-shipping missile manufactured in Iran using Chinese technology. Its range is estimated to be about 110 km.

Apparently two such missiles were fired on Friday night, one of them hitting INS Spear and the other a Cambodian-flagged freighter, 60 km off shore. A dozen Egyptian sailors from the freighter were picked up by another commercial vessel after their ship sunk following the missile strike.

According to Brigadier General Noam Feig, head of the naval shipyards, the Saar-5 crew "fought the flames and managed to regain self-propulsion. For a while the ship had lost some of its ability to maneuver."

Close to midnight the ship made its way to port where its rudders were repaired.

IDF sources said Saturday that Iran transfered the C-802 missiles to Hezbollah, although intelligence officers noted that they were not sure whether Iranian advisers were involved in the launching of the missiles.

Brigadier Feig said that the Navy had no intelligence that such missiles were in the Hezbollah arsenal. "We were under the impression that we were operating beyond the range of missiles," he said.

In response to the attack, naval and air forces destroyed radar stations belonging to the Lebanese army. IDF sources said that the Lebanese army radar took part in the attack against INS Spear.



Anyone Remember the Axis of Evil Speech? North Korea, like Iran is also a Client State of China and like Iran wants NUKES! Fortunately North Korea is still a ICBM klutz but Iran appears that it may not be based on this sharp shooting of the INS Spear when it goes ICBM! Hugh Hewitt's IDF Vet, Yoni Tidi knows more about this than me:
Friday, July 14, 2006
3:02 PM
Israel believes Hezbollah has missiles that can hit most of Israel, and which could even strike Be'er Sheva under optimum conditions.

Iran supplied Hezbollah with solid-fuel, Zelzal-2 missiles with a 200-km range, but these are not very accurate, since they do not have a self-guidance system.

The Zelzal-2 missiles, intended to strike broad targets such as communities and cities, are equipped with explosive warheads weighing up to 600 kilograms. The missiles are a later version of the Zelzal-1 missiles, which Iran first displayed in September 2005 at a military parade in Tehran, together with six Shihab-3 missiles.

Hezbollah's original Katyusha rockets had a range of 12 kilometers to 22 kilometers. At a later stage, it obtained Iranian Fajar-3 and Fajar-5 rockets, with a range of 45 kilometers and 75 kilometers, respectively. Hezbollah did not use these rockets until the current conflict.
Men of the WEST beware!!!