Mark Halperin prompts an Emergency Psychoanlysis of Hugh Hewitt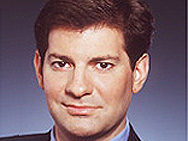 vs
ABC's resident Psychologist, Mark Halperin, and
the political director this network News division
goes for a little league ad hominen attack on Hugh Hewitt because he committed the Cardinal Sin of stating the obvious that he, Dr. Mark is a Liberal!! How dare you? Psychologist Mark wonders if Hugh's alleged slander stems from some Freudian childhood trauma which has caused him to be so sinister?
Well I believe that Hugh has the right to be offended because this man has breached PC ethics by this transgression of today's victimocratic society in the US
. Dr. Mark how could you do this
? Well to delve into Dr. Mark's assertion perhaps he is on to something? Let me take a stab at it in this open letter to Hugh Hewitt? Mr. Hewitt just lie down here on the proverbial couch on my Blog. Don't worry Mr. Hewitt, I am a real Doctor. Let us back track to your youth and into the deep and tenebrous recesses of your Conservative Mind? What caused you to be so skewed Sir?
Was that the Cleveland Brown's never win another Championship after their last 1964 NFL Championship when Leroy Kelly was a rookie? Although Leroy Kelly was great and won many awards he could never take the Browns to another Championship?

Was it the assassination of Robert F. Kennedy by Sirhan Sirhan who was upset over the Palestinian/Israeli conflict and realized that this was a harbinger of things to come? Additionally you may have been more affected than most Americans because you attended JFK High School in Warren, Ohio.

Was it the first national appearance of Hilliary Diane Rodham (future Mrs.Clinton) who

joined the impeachment staff of the House Judiciary Committee and prosecutor Leon Jaworski in its investigation of President Richard M. Nixon.
Hugh did you feel betrayed when you learned that it was Hilary per House Judiciary Committee's former chief counsel, Jerome Zeifman that changed the impeachment rules that cooked President Nixon's goose? See Free Republic

What was it that pushed you over the edge Hugh? Was it the June 23, 1972, "smoking gun" tape where Nixon ordered the CIA to block the FBI's Watergate investigation? Or where Nixon discussed the possibility of paying hush money to the Watergate burglars? Or the so-called enemies list kept by the Nixon White House on reporters hostile to the administration? Apparently, prosecutor Watergate Deputy Henry Ruth couldn't find any evidence regarding these transgressions that he thought would stand up in court.




But since the tapes sounded damning enough that even President Nixon, who at first thought those recordings would be exculpatory, realized after he reviewed them that his goose was cooked – politically, if not legally.




In July 1974, as the House Judiciary Committee was reviewing the tapes and earmarking Nixon's supposed crimes, two young staffers were assigned by the committee's chief counsel, Jerome Zeifman, to research the protocols for impeachment. John Labovitz and another young lawyer, just 26 years old with the ink barely dry on her Yale law degree, began the arduous task of poring over constitutional archives. Labovitz's partner was Hillary Diane Rodham.

And research done by Labovitz and Rodham became the roadmap for three articles of impeachment reported out of the House Judiciary Committee that promptly destroyed any remaining congressional support for Nixon.




Before the full House vote on the articles of impeachment, three senior Republican senators apprised Nixon of the handwriting

on the wall. The Nixon presidency ended on Aug. 8, 1974.


Zeifman quoted his own 1974 diary, which reports that just four days after Nixon resigned "John Labovitz, Hilary's accomplish went to Zeifman's office and apologized for having participated to some extent to conceal from him the work that was being done. Some months ago, he and Hillary lied intentionally to Zeifman and told him there were no drafts of proposed rules of procedure for the [Nixon] impeachment inquiry.




The New York Daily News noticed this earthquake confession, and sought Zeifman's elaboration on the historic subterfuge perpetrated by our current first lady. The Daily News reported: If the United States was going to topple its own president, rules were important, Zeifman told the Daily News: "Suppose we were going to have the World Series next week and suddenly one of the team managers says, 'We want to change the rules to two strikes and you're out.'"

That's basically what [Hillary] Clinton and Labovitz did, Zeifman claimed. In other words, they drew up new impeachment protocols to replace those in existence since Jefferson's day -- and then denied it. Congress -- and the country -- would have been completely polarized if it had seemed Nixon was being railroaded out of office with new rules, Zeifman said. (New York Daily News – Feb.12, 1996)

Most people think Nixon was likely guilty of the Watergate cover-up. But Ruth's memo to Jaworski shows there really wasn't any "smoking gun" evidence of it.

And that's likely why Hillary Diane Rodham, who regarded Nixon as "evil," according to Clinton biographer David Maraniss, had to discard impeachment rules in place for two centuries in order to nail her quarry.

Now that America faces its second impeachment crisis in as many generations, it's worth remembering how the rules were bent by partisans committed to destroying a presidency -- when the target was Richard Nixon.



Was it Hilary's involvement in this and the way the media looked the other way when it happened, Hugh?

Was it to much to learn that Hilary a lifelong, devout Methodist, and especially active in church groups as a teenager had been a Barry Goldwater supporter while in high school.

Was it the fact that she was President of the Young Republicans at Wellesley College. But then like so many

baby boomers, her politics became more liberal as the

Vietnam War raged. By the time she was selected valedictorian of her Wellesley class, she was a Eugene McCarthy Democrat.

Hugh, was it the Cuyahoga River fire of 1969 in your beloved Ohio that set you off? Remember that this fire help give birth the the militant environmental movement after your home state's river had be ignited multiple times beginning in 1936?
Hugh was it when OSU fired Woody Hayes? The legendary Woody Hayes career to end, when in 1978 after having a temper tantrum during the Gator Bowl and striking an Clemson's linebacker after he intercepted a pass to clinch the game. The university was embarrassed and felt they had no choice.

Was it during the 1960's and 70's in particular when Cleveland was considered one of baseball's weak links both on the field and at the gate. Playing at cavernous 80,000 seat Municipal Stadium, small crowds would be dwarfed by empty seats. Was it that the franchise had to settle for whatever individual awards it could obtain like Gaylord Perry's 1972 Cy Young Award as the pinnacle achievement for the Tribe during this empty era.

Hugh, how about the opening season 1970-71 season for t

he Cleveland Cavaliers started with many factors working against them. The team Coached by Bill Fitch and which was made up of rejects from other teams that made other expansion teams look good. Was it the fact that the Cavs had to play their first 7 games on the road as the Cleveland Arena had been booked by the Ice Capades. The Cavaliers dropped all 7 games by an average of 17.3 points per game, including their debut a 107-92 loss to their expansion partner Buffalo Braves on October 14th. When the Cavs made their home debut on October 28th against the San Diego Rockets the losses continued, as they ended up losing their first 15 games before beating the Trailblazers in Portland 105-103 on November 12th. The Cavaliers would go on to finish in dead last with an awful record of 15-67.
Was it when the"Red Right 88" "Kardiac Kids" name stuck. A fourth-quarter field goal by Don Cockroft in the final game against the Cincinnati Bengals helped the Browns capture the division with an 11-5 mark, with the Oakland Raiders their opponent in the team's first playoff game in eight years. Alas Hugh it was not meant to be as a heartbreaking end of this dramatic season came in the closing seconds of the playoff game when Sipe called what became known as "Red Right 88". Super Sipe passed toward the end zone and Oakland's Mike Davis intercepted the ball! These same hoodlums Oakland Raiders went on to win the Super Bowl, and "Red Right 88" has lived in Infamy as one of a list of Cleveland sports curses ever since!
Hugh, Was it your tenure as a House Boy at the Tri Delt Sorority house at the University of Michigan that damaged your Psyche?
Hugh, was it your stint as the Cowbell Playing Gene with Blue Oyster Cult that has caused this bifurcated Personality of yours as an interviewer?
Or Hugh was it the election of Jimma Carter to the highest office in the land in 1976, when you were a young Harvard Co-ED that has so scared your youth that you are now a CTU(Comprehensive Truth Unit) agent who stars in "18" minutes which is the length of a segment on your show and is all the time you need to expose Mike Halperin, Ed Henry, Michael Hiltzic, Doyle McManus
,
and many many other Liberal Partisan Jurassic MSM so called "Journalist"! "Hugh you are not the kind of Journalist that believes in same Journalism I believe in"
!
Dr. Mark enlighten me I thought Journalism was an unlicensed Profession/discipline not a Religion as your description would seem to indicate?
FYI:

Journalism

is a discipline of collecting, analyzing, verifying, and presenting news regarding current events, trends, issues and people. Those who practice journalism are known as journalists.
Well, Mark Halperin ABC Psychologist, I hope this Psychoanalysis by a real M.D. well help you forgive Hugh Hewitt. As you can see he suffers from Lake Erie Mistake on the Lake Syndrome(Disclaimer I suffer from it too as I am an Ohioan too)! Give Hugh Hewitt a break! Be a PC Liberal who make allowances for "Psychological Disabilities"!

Indeed Classic Freudian Theory entails the bringing of unconscious thoughts and feelings to consciousness. This I have brought about by encouraging the patient to talk in free association on his program and at times he talk about his dreams(where All Americans are UNITED and realize that the Isalmo-Jihadist want to destroy our Democracy and are using Liberals to do it ala Enemy Within)! .

Mark, another important element of psychoanalysis is a relative lack of direct involvement on the part of the analyst(moi), which is meant to encourage the patient to project thoughts and feelings onto the analyst(moi). Through this process, known transference, Hugh Hewitt can reenact and resolve repressed conflicts, especially childhood conflicts with (or about) parents and coming from the Cleveland region of Ohio. If Hugh Hewitt reads this he may be cured by his Childhood Psychological Trauma you allege. So please come back to the Hugh Hewitt Show, we love seeing you and other "Journalist" without your masks.
Hugh will be cured by this Emergency Psychoanalysis that you have been the catalyst for! Thank you Mark Halperin for saving our Hugh Hewitt! He don't look so good but he is CURED!

Hugh I think I may have violated your HIPAA rights(Health Insurance Portability and Accountability Act enacted by the U.S. Congress in 1996.
Sorry but we need to help fix the "Scarred Psyche from your Childhood & Youth" so you can keep unmasking the MSM "Neutral" Journalists that live on the Airways of the Alphabet Media....
Francis Xavier M.D.
P.S. If Mark Halperin thinks we are fighting "Two Wars" he has let his guard down and has outed his Liberal Mentality! These are fronts on the Gobal War on Terror Mr. Political Director of ABC News!